Construction Superintendent Certification Program
Overview
NCCER's Construction Superintendent Certification Program prepares new and existing superintendents with the training they need to succeed. Created by a team of seasoned superintendents and experts in the field, this program speaks directly to the superintendent, helping them understand how to master the challenges they face on the job each day.
Superintendents are the steward of every person and every factor on a project – from safety and profitability to the quality of the final project the owner receives. Our Construction Superintendent Certification Program serves to develop and certify current and aspiring superintendents to effectively fulfill these critical responsibilities."
-Boyd Worsham
President & CEO, NCCER
Construction Superintendent Certification
Program Snapshot
The new 16-course program assists contractors in developing and certifying qualified construction superintendent professionals who oversee the operations of a construction site, from planning to completion. This online program provides expert insight to learners, whether they are current project leaders looking to hone their skills, craft professionals seeking advancement, or recent graduates beginning their career. The program can be taken as a fully online self-paced program or incorporated into a facilitated program lead by your organization.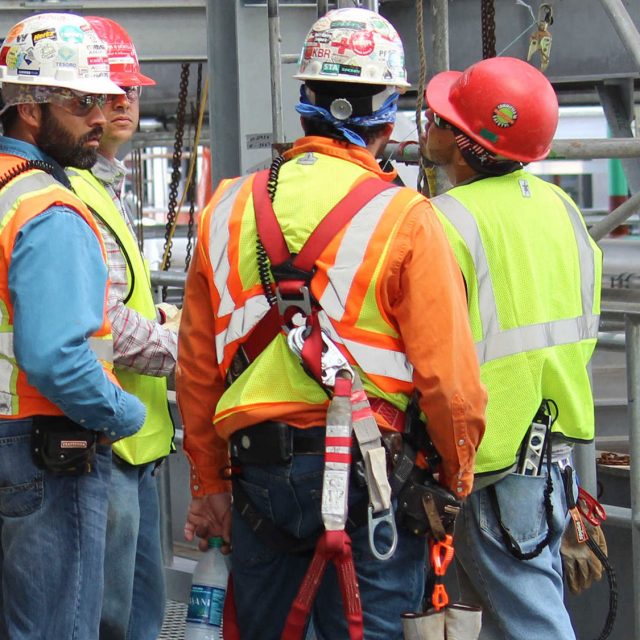 Construction Superintendent Certification Program
Creates convenient access to training for superintendent candidates, outside of traditional craft training or construction management programs – with a flexible self-paced online learning experience.
Enables companies to assess knowledge and skills of experienced construction superintendents through a rigorous assessment.
Sets up rising construction superintendents for success with managerial and soft leadership and communications skills, as well as an understanding of the business of construction.
Accelerates competency development so companies see increased project profitability, reduced project risk and better retention.
Contributing Subject Matter Experts
Subject Matter Experts (SMEs) are a vital part of NCCER's program development process. We would like to thank the following SMEs for writing and reviewing the course materials, providing jobsite photos, giving us permission to share their content, creating videos and sharing their expertise. You are the heart of this program, and we appreciate your drive and passion to help NCCER certify the next generation of construction superintendents.
View Subject Matter Experts
A
Adam Hoots, Lean Construction Shepherd, Construction ACHE Solutions
Alastair Boulding, Professor of Practice, Clemson University Department of Construction Science and Management
Andy Odell, Scheduler, CRB
B
Benj Van Donge, Director, Workforce Operations, Interstates
Bob Bertig, Manager, Project Management, Tampa Electric Company
Bob Seegmiller, Senior Project Engineer, Cianbro
Bradley Opell, Site Director, Gray Construction
Brian Collings, Senior Superintendent, McCarthy Building Company
Brian Roundtree, Director, Corporate Safety, The Haskell Company
Buddy Brumley, Senior Superintendent, Skiles Group
C
Carl Heinlein, Senior Safety Consultant, ACIG
Carla Thompson, Workforce Development Manager, Turner Industries
Carolyn Milliron, Director, Client Engagement, Exceed Safety, LLC
Chad Bradley, Vice President, Construction Division, Turner Industries
Christi Powell, WBE Lead, 84 Lumber
Christopher Cobb, Managing Partner, Cobb & Gonzalez, PA
Clay Kubicek, Owner, DTT Development
Construction Industry Institute (CII)
Construction Safety Research Alliance (CSRA) at the University of Colorado
D
Daniel Lund, Construction Lawyer, Partner, Phelps Dunbar, LLC
David Cook, President, Safety Solutions & Supply
Debbie Rodriguez, Owner, Quality Labor Management
E
Emerson Dority, Lean Superintendent, Gilbane Building Company
Emilie Bell, Assistant General Counsel, Sundt Construction
Engineering News-Record (ENR)
H
Harry Schmidt, Director, Business Strategy, O'Shea Builders
Heather Brown, Vice President, QA/QC, Irving Materials
Henry Nutt, Preconstruction Executive, Southland Industries
Holly Szakovits, Senior Manager, Corporate Development, Kwest Group
Howard Davis, Field Training Administrator, Brasfield & Gorrie
J
Jack Callahan, General Superintendent, WG Yates
James Shay, President & CEO, American Contractors Insurance Group (ACIG)
Jason Schroeder, President, Elevate Construction LeanTakt
Jeff Messer, Corporate Training Coordinator, ISC Constructors, LLC
Jeff Miller, Vice President, General Counsel, The Haskell Company
Jeff A. Miller, Dean of Instruction, Ridgewater College
Jennifer Castenson, Vice President, Ambassador & Partner Programs, BuildExact
Jessica Rhodes, Senior HR Generalist, M.C. Dean
Jim Leftwich, Project Superintendent, Retired, The Haskell Company
Joe Cook, Partner, Catalyst Construction
Joe Donarumo, Vice President, Field Operations, Linbeck Group
John Bolt, Vice President, HSE, S&B Family of Companies
Justin Uyar, Project Superintendent, Shelco, LLC     
K
Kabri Lehrman-Schmid, Project Superintendent, Hensel Phelps
Kevin Rice, Chief Visionary Officer, Elevate Construction LeanTakt
Kevin Kett, Director of Quality, The Haskell Company
Kimberly Spain, Senior Engineering Specialist Supervisor, Florida Department of Military Affairs
Kyle Potts, Senior Superintendent, Archer Western Construction
L
Leslee Montomery, Mental Wellness Architect, Humanology Partners
M
Manny Hoyo, Senior Superintendent, Skanska USA Building, Inc.
Mark Chadwick, Project Manager, Jacobs
Matt Brown, Senior Site Manager, Gray Construction
Matt Marino, Preconstruction Manager, Oelrich Construction
Matt Meaker, Vice President, Assistant General Counsel, Sundt Construction
Mike Biskie, Human Resources Director, B&I Contractors
N
National Safety Council (NSC)
Nick Clemens, Senior Superintendent, O'Shea Builders
Nick Guidry, Engagement Manager, Construction Career Collaborative
P
Paul Smith, Head of Training, Baker Construction Enterprises, Inc.
Procore
R
Ray Issa, UF Distinguished Professor & Director, University of Florida ME Rinker Sr School of Construction Management
Ricardo Menchaca, Craft Training Superintendent, Marek
Rick Craven, Superintendent, The Haskell Company
Ricky Buxton, General Superintendent, PPI Construction Management Company
Rob Hunt, Safety Consultant, ACIG
Rob Kaltenbach, Director, Quality, Gray Construction
Robert Deatherage, Global Industrial Relations Manager, Bechtel
Robin Renschen, Director, Learning & Development, McCarthy Building Company
Ron Duce, Sr. Project HR Manager, Kiewit & TIC
Ron Lindsay, Safety Consultant and Master Trainer, Palmer Engineering & Forensics
Ron Sokol, Advocacy & Governmental Affairs, Safety Council of Texas City
Ron Stuff, Sr. Vice President & General Counsel, Sundt Construction
Rudy Ramirez, Vice President, Human Performance and Development, Zachry Group
Ryan Ahern, Director of Field Operations, ReArch Company
S
Sabra Phillips, Director, Org & Talent Development, Marek
Scott Mims, Industrial Group HSE Manager, Sundt Construction
Sean B Ray, Vice President, Craft Workforce Development, Sundt Construction
Stacy Bell, Director of Human Resources, MOR PPM, Inc.
Stan Spence, Construction Manager, ISC Constructors, LLC
Steve Halverson, Retired Chairman & CEO, The Haskell Company 
Steven Derbyshire, Corporate Safety Director, S&B Family of Companies
T
Teresa Magnus, Principal Consultant, Magnus & Company
Tim Thompson, Superintendent-Training Program Director, Robertson Construction
Todd Miller, President, Bolt Construction
Tommy Weeks, Superintendent, Marek
Tracy Amos, Construction Superintendent, M.C. Dean
Trimble, Inc.
V
Vincent Rankin, Shelby Erectors, Steel Erectors Association of America
Program Components
01
Certification Assessment
Any partici

pant who p

ass

es

this rigorous program-level assessment

and

demonstrate

s

four or more

years of verifiable, qualified field experience

earns

the NCCER

Construction Superintendent

C

ertification.

 
02
Robust Online Learning Courses
Each of the sixteen courses in the Construction Superintendent Certification Program engages participants with text, audio and "interview with the experts" videos that provide practical and actionable lessons on key topics. The courses also include:

Apply and Reflect Activities for participants to apply their learning and Tools You Can Use templates and guidelines that can be used on the job.
Continue Learning content for participants to deep dive into a topic.
Practice and Review questions for practice before taking the Construction Superintendent Certification Assessment.
Full course list is below.
03
Program Facilitator's Guide
Enables any organization, association or training center to deliver a facilitated program, supported by online learning.

 

Allows your organization to add its own content

 

to the program.
Online Courses
Courses can be taken in any order.
Purchase
Develop future leaders with NCCER's new Construction Superintendent Certification Program. Click the "Purchase" button to get started.