Learner
SUCCESS STORY
A Master Plumber and Instructor – By Age 23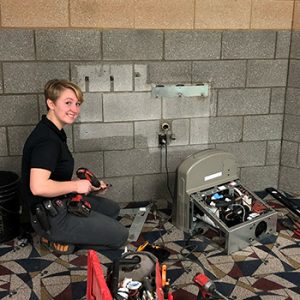 This is AnnaLisa Tanner. She is a woman in construction.
Women make up only 11% of the construction workforce. That is 1.25% of all employed women. With such a small number, it is hard to believe that construction is a woman's field and that they are making an impact in the industry. However, both things are true. The construction workforce is benefitting from the rising number of women craft professionals and the women in the industry are making their presence known. One of these is AnnaLisa Tanner.
Tanner is a master plumber with Meridian Plumbing and an instructor at Greater Michigan Construction Academy at only 23 years old. She has been teaching NCCER Plumbing Level 1 for a semester and has worked in the field of plumbing for about five and a half years.
Becoming a plumber and plumbing instructor came as a surprise to Tanner. Her original plan was to become a veterinarian before realizing that science, college debt and being knee-deep in textbooks all day was not the right path for her. While deciding what to do, she enrolled in a basic CTE course at Wilson Talent Center just to learn the skills of maintaining her own home's electricity and plumbing among other things. What she found instead was a career.
"I fell in love with it," Tanner said. "It became more than just a job for me; it became my career and the thing that I wanted to do for the rest of my life."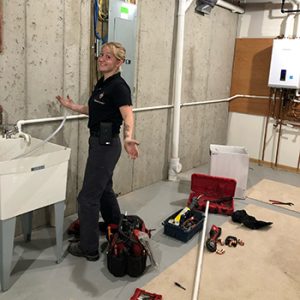 Becoming an instructor for one night a week turned out to be the next step in that career. After Tanner got her license and spent a few years as a plumber, Greater Michigan Construction Academy reached out to her company to see if anyone would be willing to teach since they had an open position after expanding.
"It's different being in the front of the room instead of the back, but I really enjoy my students. Most of them are currently working in the plumbing field," Tanner said. "It's a lot of fun working with that group and teaching them, and they're teaching me at the same time."
What drew Tanner to plumbing was how the pipes and water systems looked neat and orderly by the time she was done with them. She felt a sense of accomplishment at being able to fix someone's home in this way. This was not the chaos of wires entangling together that turned her away from electrical, or the eventual wear that carpentry would have on her body. This was something she could bring her special touch to and feel satisfied at the end of the day.
Women homeowners feel comfortable coming to her with questions on how they can better take care of their homes. Tanner provides them a safe space to freely ask questions and learn. She also takes particular care not to scratch counters and floors when she is working, rather than only prioritizing the speed of a job. What is important to Tanner, however, is paying attention to the details of a job and reveling in keeping her community safe and healthy.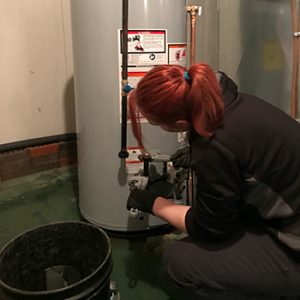 The best part about being a woman in the field, Tanner said, has been surprising people who may doubt her or have preconceived notions about the plumbing occupation. With her knowledge and jobs-well-done, she enjoys what she does every single day whether she is fixing a faucet or working on a water heater.
Tanner wants to encourage women with her experience of being a woman in construction and being the only woman at her company until recently. She has had the fortune of being supported and not looked down upon by her male counterparts. She says that speaking up about being a woman surrounded by men at work is how women craft professionals can encourage the rising generation to pursue a construction career and enter the workforce they want no matter the odds. Going into a male-dominated field as a woman doesn't have to be scary, but empowering.
Related Stories
NCCER Testimonial | Mujeres en la Construcción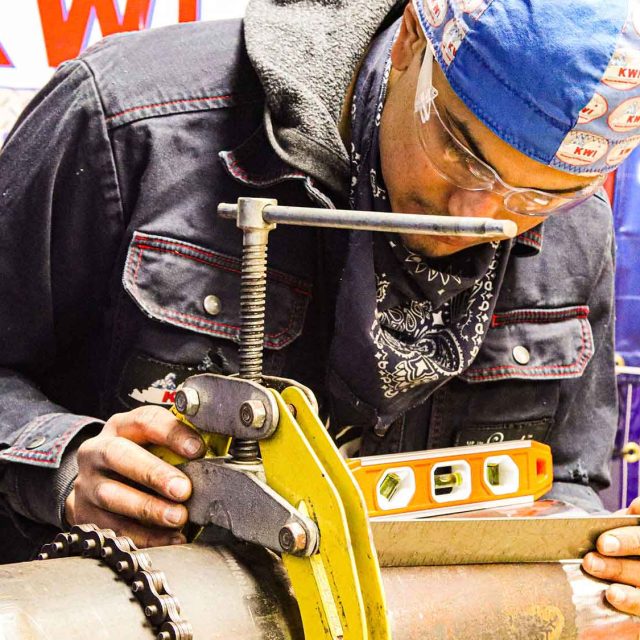 NCCER Success Stories
Tell Us Your Story
We want to hear how construction training has impacted your life! Submit your experiences, photos and more with the form below.