Learner
SUCCESS STORY
Dreams Fulfilled | My NCCER Story: Chris Manzelli
In another timeline, Chris Manzelli is a rock star or one of Hollywood's leading filmmakers — two of his passions. In this timeline, he is an electrician and NCCER Master Trainer with Davis and Green Services in Virginia, and he wouldn't have it any other way. Why? His career as an electrician led to him fulfilling his music and film dreams. How did he get there? Let's go to the beginning.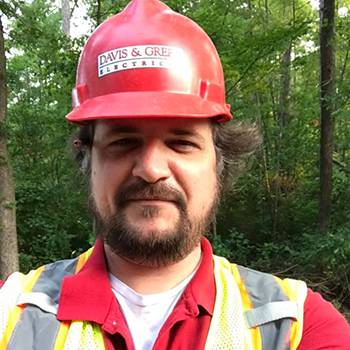 Manzelli originally wanted to go to film school, but that dream proved to be financially out of reach at the time. He then turned his attention to being a teacher. This was a promising career path, but a brutal course load led to burn out, and ultimately moved on to something else.
While working in retail between careers, he was asked by his now-wife's stepfather if he could swing a hammer or turn a screwdriver. If he could, he could have a job until he found something better. That something better ended up blossoming into a full career in construction as an electrician.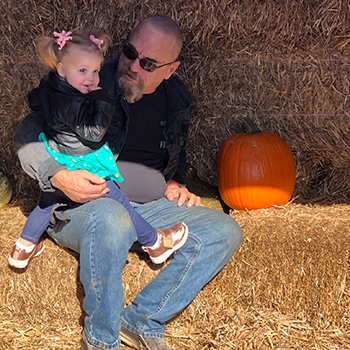 Manzelli's daughter and his wife's stepfather, Steve. 
"I went through the NCCER ABC Virginia program taking night classes," Manzelli said. He would work all day and study at night. He ended up graduating as the Most Outstanding Apprentice — meaning he had the highest grade in the class — and then moved on to get his journeyman's.
Now an electrician, he would soon fulfill one of his dreams. While working as an apprentice for Davis and Green, the journeyman he was training under was selected by company leadership for an opportunity to be seen across the country practicing their trade.
"Two years into the trade, I'm on a national TV home remodel show," Manzelli said.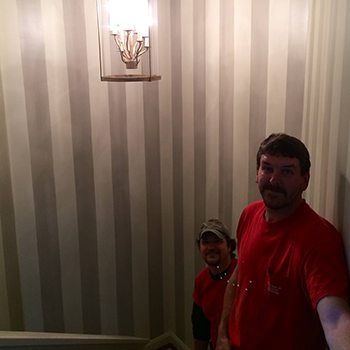 Remember that passion for music? Manzelli's success as an electrician has afforded him the stability and skills to nurture one of his favorite hobbies.
"I am working at a job that has allowed me to build a recording studio so that I can record my own music and continue doing stuff outside of my job which I also enjoy," Manzelli said. "It gave me an area where I can go after work on a Friday, after my daughter goes to bed, and work on some tracks."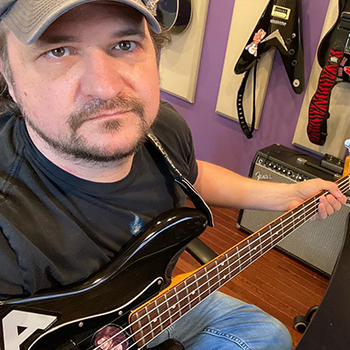 His career in construction had already given him so much. But it had one more dream it needed to fulfil: being a teacher.
Some years into his career, the leadership at Davis and Green wanted to start an NCCER program and Manzelli was chosen to train at NCCER's headquarters in Alachua, Florida to become a Master Trainer — making him a teacher.
"I went through an NCCER program as an apprentice, and then I developed an NCCER program within the company I apprenticed with and got accredited and it all came around full circle," Manzelli said.
Chris is a big supporter of the NCCER curricula, which he believes provides a full understanding of the craft as it has a good mix of book and hands-on learning.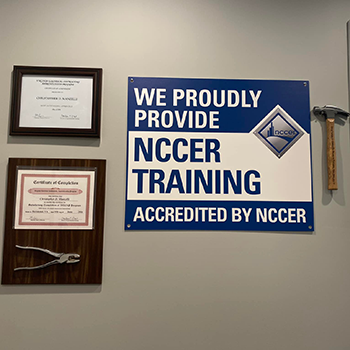 "If you take a look at the NCCER curricula, there is a lot that can be applied in the field," Manzelli said. "Easy to digest. If you listen, pay attention and review, you can learn a lot."
Manzelli's company uses NCCER's HVACR and Electrical curricula. Soon, he said, they will be adding on Plumbing.
For Manzelli, he was able to fulfill his life dreams by training with NCCER curricula to be an electrician. Now an NCCER Master Trainer, he is helping young men and women find their own path and hopefully fulfill their dreams.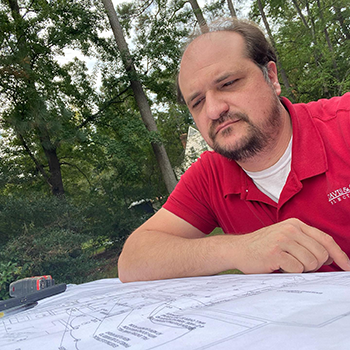 Related Stories
NCCER Testimonial | Mujeres en la Construcción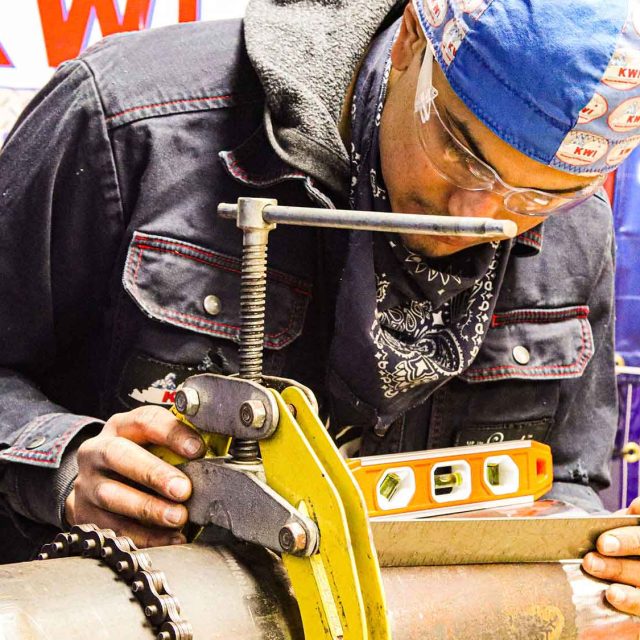 NCCER Success Stories
Tell Us Your Story
We want to hear how construction training has impacted your life! Submit your experiences, photos and more with the form below.