Helping Others Obtain Destiny | My NCCER Story: Project H.O.O.D.
"If we work together, we can overcome any challenges in our neighborhood."
That's the mindset that drives Project H.O.O.D. (Helping Others Obtain Destiny), a nonprofit working to help provide opportunities to people on the south side of Chicago.
The organization started 10 years ago by Pastor Corey Brooks, who was driven to take action after conducting several funerals for young people in his area. Wanting to make a difference, Brooks founded Project H.O.O.D., which now runs several different programs and initiatives to help individuals in the community.
Among these programs is a violence impact team, which works to get ahead of any violence in neighborhoods, as well as a re-entry program to help previously incarcerated individuals integrate back into their communities.  Also included among these initiatives is the construction training program.
In partnership with Associated Builders and Contractors (ABC) Illinois Chapter, an accredited NCCER training and assessment provider, the Project H.O.O.D. construction cohort is a 12-week program focused on preparing students and young adults for careers in the skilled crafts.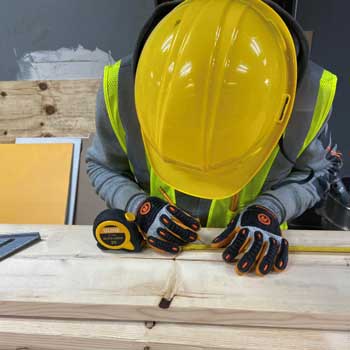 Desmond Marshall, chief operating officer for Project H.O.O.D., says NCCER is a great match for what they do. With the modular curriculum and the ability to see training recommendations based on test results, Marshall explains they can adapt the program to help each student achieve success.
"We like NCCER's curriculum because it's based on the student's involvement and the student's pace," Marshall said.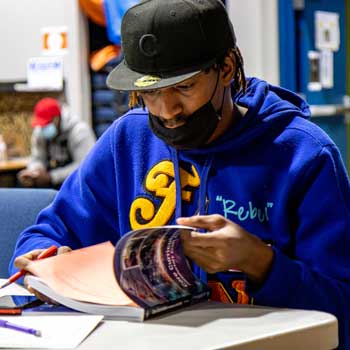 Alongside the craft skills training, the 12-week program also incorporates insights into careers in construction from guest speakers, including former students. In addition, Project H.O.O.D. helps develop the students' career-readiness skills by assisting with resumes and conducting mock job interviews. For the most recent cohort, the students were even helped with getting fitted for new suits.
"At the end of this 12-week program, we want you to feel confident going on into your new career path," Marshall said.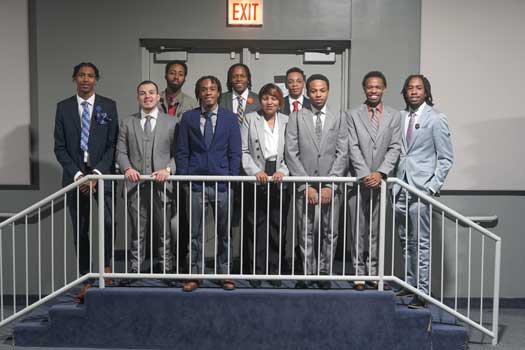 Upon completion, students get to participate in a special, exclusive open house with local contractors and companies looking to hire new talent. Shortly after the open house, the organization celebrates a "signing day" event as part of graduation, where the students announce the company they will be joining. Marshall says that the signing day event was inspired by a student who needed to figure out how to choose just one of his job offers.
"I actually had a student tell me, 'Dez, I have so many job offers. How do I turn down a job?' And I just instantly smiled. For the first time, he had options," Marshall recalled.
According to Marshall, the most recent graduating class — which was the program's seventh so far — currently has a 90 percent employment rate.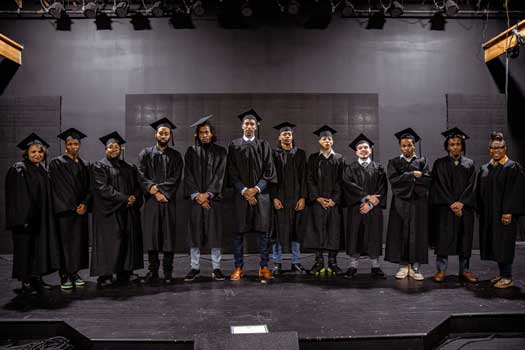 By working with ABC Illinois, students leave the program with credentials for NCCER Core and Carpentry Level 1, as well as OSHA certification. Marshall says  those credentials are an important advantage for Project H.O.O.D.'s students.
"Having NCCER credentials is so important, especially to those hiring contractors," Marshall said. "It really separates them applying for a career against a person who doesn't have NCCER credentials. This person is trained and certified when it comes to safety, when it comes to construction. And so, when they get on the job site, they are ready to show, improve and perform."
Building upon the success of the training partnership with ABC Illinois, Project H.O.O.D. is also currently in the process of earning its own NCCER accreditation. Marshall says  becoming accredited will expand the variety of crafts Project H.O.O.D. can offer and allow students to choose their own training path.
"For us, being a nonprofit, that would help take us to the next level," he said.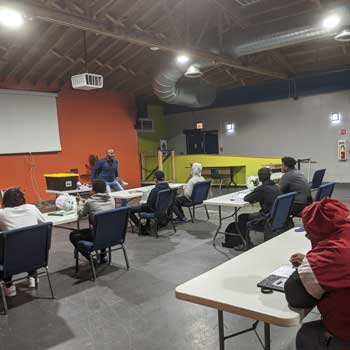 That next level for Project H.O.O.D. is well on its way to including a brand-new leadership and economic center. The building project will cost around $35 million, with more than $18 million already raised. One of the big benefits of the new facility will be more space to conduct training, allowing the construction cohort to accommodate more trainees.
These accommodations are very much needed —Marshall says  for the last cohort, Project HOOD received 196 applications for the 20 open spots in the program.
"When it comes to the want and need for training and new careers, the want is humongous," he said. "There are a lot of people in inner cities across America who want this opportunity."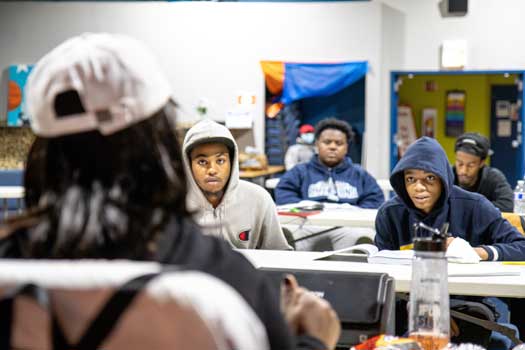 There is a high demand for construction training in communities like the one Project H.O.O.D. serves in Chicago. There is also a high demand in the industry for new talent to meet the workforce demands. So how do we make those seemingly aligned goals meet? Marshall says it will take partnership between industry groups and local nonprofits like Project H.O.O.D. to collaboratively overcome unique challenges and barriers, from training capacity to racial diversity in the construction workforce.
"If you partner in the right place with the right people, you can attack that problem," Marshall said.
Tackling problems at the root is why Project H.O.O.D. was started. Beginning as a vision to help heal hurting neighborhoods, the nonprofit is continuing to find new ways to provide incredible opportunities to young people and provide a pathway to a positive future.
"If we can teach students and young people to put down a gun and pick up a hammer," Marshall said, "Man, the world would be a better place."
To learn more and support Project H.O.O.D., visit projecthood.org.