Passion Builds Excellence | My NCCER Story: Jeffrey Bertke
It's been an exciting and ceremonious year for Jeffrey Bertke.
The recognition for Bertke didn't stop there. Just a few months later in April 2022, he was presented with the Teachers of Ohio Representing Character and Heart (TORCH) Award, a recognition given to only five Ohio teachers annually.
So, what's the secret to his success?
"A lot of this comes down to reflection," says Bertke. "If you've got passion for what you're doing and you're in the field and in the classroom sharing that stuff, you're getting your kids to buy in to what you're doing."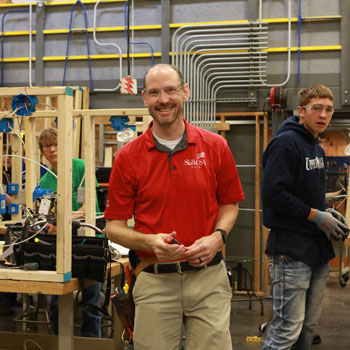 That passion is a central part of Bertke's teaching philosophy — a passion that kicked off at the same high school where his is now a teacher.  After going through the electrical trades program as a student at UVCC, Bertke started working in construction right out of high school through an apprenticeship program at Buschur Electric. It was in this apprenticeship that Bertke was first exposed to The National Center for Construction Education and Research (NCCER) electrical curriculum, earning his Level One credentials.
Bertke worked in the field for about 11 years. As he gained experience as an electrician, he would occasionally help teach the apprenticeship program during slower seasons of work. It was here he discovered his enjoyment of teaching others. When he received a call about an opportunity to do it full-time at Upper Valley, he accepted the new job.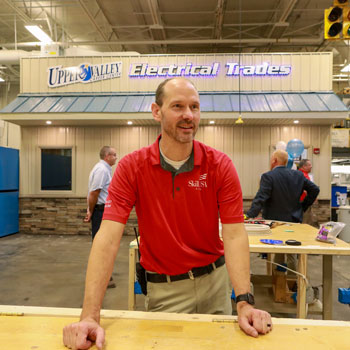 Along with his passion for electrical work and teaching, Bertke also brought something else with him to his former high school: NCCER.
"They have a lot of resources available that helps make those first years of teaching a lot easier," he says. "The curriculum is very well laid out and very user-friendly."
Now teaching NCCER Core and Electrical Level One, Bertke appreciates how the curriculum is broken down into modules and how easy it is to interweave the textbook learning and Performance Profiles with other hands-on work and supplemental instruction that Bertke incorporates.
"It's a good curriculum that helps lay the foundation for what we need," Bertke says.
Entering his twelfth year of teaching, Bertke has an opportunity to make an impact on students' lives. As a student, Bertke says he often struggled to focus on things that didn't match his interests. Now in the world of career and technical education, he's able to help current students lock in on things they enjoy and prepare them for success.
"They're there for a reason," he says. "They want to learn, they want to make money, they want to get out in the field. So, we're able to get them a mixture of classroom experience and lab experience and bring that out in a real-world experience that you just can't offer in a regular school."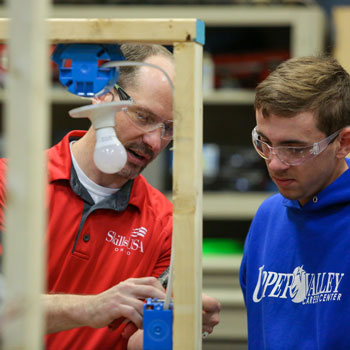 Even with the promise that craft training and construction education can bring, it can still be a challenge to get full buy-in from students and parents, especially in an era where success without a college degree can be a hard sell.
That's where Bertke's passion for his career can often have its biggest impact. With his own excitement and zeal, he can help inspire his students and show them all the opportunities that a career in construction has to offer.
"It's easier to sell the program when you have 100% belief in what you're selling. If you can get that out to the kids, share your experiences, let them know you enjoy what you're doing and you love what you do, it helps make them understand that," Bertke says.
It stands to reason that it's also easier to sell a program when it has the success and award-winning pedigree that Bertke's electrical trades program has rapidly acquired. And that success will hopefully continue to build upon itself.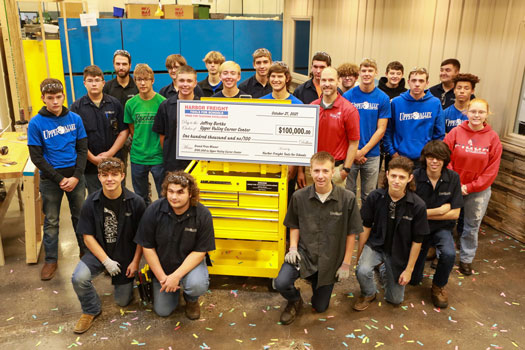 With the funding from the Prize for Teaching Excellence, the program at Upper Valley Career Center will be able to invest in some new projects, put new tools and equipment in the hands of their students, and help break down barriers to student success. The program will also look to add in more material about power generation, solar power and other relevant emerging technologies that will continue to grow in importance in our world.
"With the shortage of skilled labor right now, we're building that next generation of skilled people."