NCCER Presents a Stanley Black & Decker Makers Grant Tool Kit to High School Students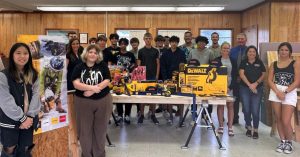 ALACHUA, Fla. — With the school year ending for many Career and Technical Education (CTE) programs across the country, the National Center for Construction Education and Research (NCCER) was pleased to award Fleming Island High School with a Makers Grant tool kit sponsored by Stanley Black & Decker. The students in Mr. Cunningham's class will put these tools to work as a new school year kicks off in August. The students and Mr. Cunningham are excited by what they will learn and already have projects planned for the next school year.
As a recipient of the 2022 Stanley Black & Decker Makers Grant, NCCER is grateful to partner with Stanley Black & Decker to build CTE programs and connect students with careers in construction. The grant is used to support NCCER's CareerStarter program, an online platform that unites students, job seekers, employers, and educators together in one place to promote the exploration of construction careers and connects job seekers with entry-level opportunities. Forward-thinking partners, like Stanley Black & Decker, have made a critical impact in creating connections for individuals that change lives through meaningful and fulfilling careers in the craft trades.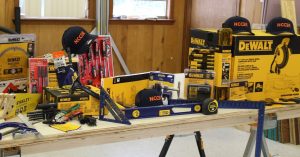 Karen Price-Ward, Director of Social Impact at Stanley Black & Decker, said, "Stanley Black & Decker is proud to support NCCER as they work to skill and reskill the next generation of trade professionals." Price-Ward added, "there are currently an estimated 650,000 open construction jobs in the U.S. and 10 million unfilled manufacturing jobs globally. Our purpose is to support 'Those Who Make the World,' and being able to fund educational programs and non-profits that are revitalizing trade careers directly connects to our core mission. Thanks to this year's Makers Grant Recipients, together we will be one step closer to closing the trade skills gap."
Through the generosity of partners like Stanley Black & Decker, NCCER is equipped to empower students, like those at Fleming Island High School, with the skillsets and tools necessary to build meaningful and bright futures in the construction industry.
To learn more about Stanley Black & Decker's Global Impact Challenge, please visit EmpowerMakers.com. For more information on the impact of careers in construction, please visit byf.org.
About NCCER – The National Center for Construction Education and Research (NCCER) is the leading provider of construction education for industry and career and technical education programs. With flexible workforce development and learning solutions, NCCER's programs provide consistency and quality to ensure craft professionals and learners receive industry-recognized certifications and credentials. With training and assessments in over 40 crafts and multiple construction disciplines, no matter your specialty, NCCER has you covered. To learn more, visit: www.nccer.org.
About Stanley Black & Decker – Headquartered in the USA, Stanley Black & Decker (NYSE: SWK) is the world's largest tool and outdoor company operating manufacturing facilities worldwide. Guided by its purpose – for those who make the world – the company's more than 50,000 diverse and high-performing employees produce innovative, award-winning power tools, hand tools, storage, digital tool solutions, lifestyle products, outdoor products, engineered fasteners and other industrial equipment to support the world's makers, creators, tradespeople and builders. The company's iconic brands include DEWALT®, BLACK+DECKER®, CRAFTSMAN®, STANLEY®, CUB CADET®, HUSTLER® and TROY-BILT®. Recognized for its leadership in environmental, social and governance (ESG), Stanley Black & Decker strives to be a force for good in support of its communities, employees, customers and other stakeholders. To learn more visit: www.stanleyblackanddecker.com.