NCCER Publishes Second Edition of Drywall Curriculum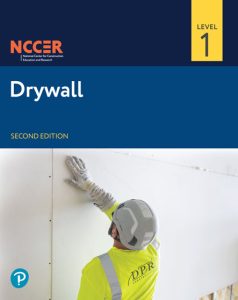 The National Center for Construction Education and Research (NCCER) has published the second edition of its Drywall Level 1 curriculum, featuring the craft's most current tools and best practices in a revised format.
The second edition's updates include:
New content and artwork for greater industry relevance, readability and learner engagement.
A rebalanced focus between wood framing and cold-formed steel framing, ensuring valuable coverage of both residential and commercial drywall applications.
Drywall Level 1 is part of NCCER's two-level drywall curriculum and covers introductory concepts, tools and skills for this important finishing craft. The curriculum's second level, Drywall Level 2, which addresses more advanced drywall topics is expected have an updated second edition in early 2024.
To learn more about Drywall Level 1, Second Edition, contact your Pearson executive director or visit the Drywall craft page on the NCCER website.
NCCER develops and distributes its curricula in partnership with the world's leading learning company, Pearson, and ensures that it complies with the Department of Labor's Office of Apprenticeship requirements for time-based training. Individuals who successfully complete these training programs through an NCCER Accredited Training Program will earn industry-recognized credentials. To learn more about NCCER curricula and purchasing options, click here. 
About NCCER — NCCER is a not-for-profit 501(c)(3) education foundation created by the construction industry to develop standardized curriculum and assessments with portable credentials and certifications for skilled craft professionals. NCCER provides a comprehensive workforce development system that includes accreditation, training, assessment, certification and career development solutions for the construction and maintenance industries. For more information, visit www.nccer.org or contact NCCER customer service at 888.622.3720.