NCCER's "The Builders' Table" Podcast Set to Kick Off Second Season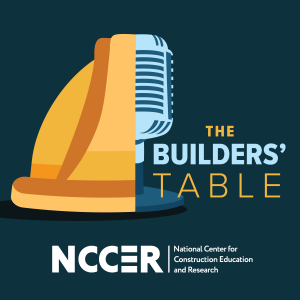 After a year of incredible guests and meaningful conversations, The Builders' Table podcast is starting its second season with a special 50th episode in October, the one-year anniversary of the show's debut. 
As the official podcast of the National Center for Construction Education and Research (NCCER), The Builders' Table seeks to educate, empower and engage listeners on the importance of the construction industry. The award-winning podcast is hosted by NCCER's Vice President of Innovation, Jennifer Wilkerson. 
Season 1 of the podcast featured guests from across the world of construction, ranging from craft professionals and industry leaders to educators, government and nonprofit representatives, and more. The weekly episodes earned more than 6,200 downloads across all streaming platforms.  
NCCER received two local American Advertising Awards for The Builders' Table, winning both a Gold and Silver ADDY from the American Advertising Federation's North Central Florida Chapter. 
"I want to thank all of our dedicated listeners and our insightful guests for helping to make the first season of The Builders' Table a success," said Wilkerson. "I'm proud of the important topics and interesting discussions we've covered through our first 49 episodes, and I'm excited to continue sharing more great conversations in the year ahead." 
Season 2 is set to kick off with Episode 50 on October 2. The first week of October marks both the beginning of Careers in Construction Month and the one-year anniversary of the podcast's first episode. The season-opening episode will feature special guest Sean Ray, Vice President of Craft Workforce Development at Sundt Construction in Arizona. 
The Builders' Table is available on several services including Apple Podcasts, Spotify, Amazon Music and more. New episodes are released on Mondays at 7 a.m. ET. 
To recommend a topic or guest for the podcast, please contact Nancy Kim at nkim@nccer.org.  
About NCCER — NCCER is a not-for-profit 501(c)(3) education foundation created by the construction industry to develop standardized curriculum and assessments with portable credentials and certifications for skilled craft professionals. NCCER provides a comprehensive workforce development system that includes accreditation, training, assessment, certification and career development solutions for the construction and maintenance industries. For more information, visit www.nccer.org or contact NCCER customer service at 888.622.3720. 
###