The 6 Best U.S. Cities for Construction Industry Jobs
2022 is a great time to be searching for a job in the construction industry. Demand for new projects remains high, along with openings for new positions, whether you are new to the industry or a veteran looking for a change of pace. No matter your specialty or experience, these are the best U.S. cities for the construction industry in 2022.
1. Chicago
Chicago was on the rise again in 2021 after years of stagnant construction industry growth. An increase in infrastructure projects brings Chicago back to the list of the best cities for 2022. Numerous large-scale redevelopment projects are also helping to strengthen revenue and job openings here.
2. Seattle
Seattle is a vibrant city with many exciting projects. The average base pay for construction workers in Seattle is 22% higher than the national average, which makes up for the city's notoriously rainy weather. Microsoft, Amazon, Google and Facebook all operate headquarters here, which frequently attracts many new projects to the area. Additionally, Seattle is seeing demand increases in education and residential projects.
3. San Francisco
Construction industry professionals who would like to live on the West Coast should consider San Francisco. It is easier to get around than Los Angeles and doesn't have any smog issues. Additionally, one of the top benefits San Francisco has to offer is its job market. Residential construction, in particular, has gone up here over the last year. With the booming housing market, San Francisco is likely to stay on the list of the best U.S. construction industry cities well beyond 2022.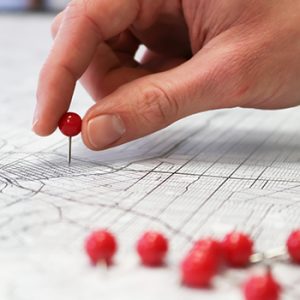 4. Boston
Construction pros looking for opportunities on the East Coast should check for openings in Boston. It is one of the safest construction industry cities in the U.S. and also offers the best average pay on the East Coast, second only to New York City. There has been significant growth in Boston's construction scene over recent years. This is a great location for construction industry workers interested in variety, with many commercial, residential and local projects all in development.
5. Austin
The residential construction scene in Austin, Texas, is electric right now. Professionals looking to be around innovation in the industry will be pleased to know Austin leads the way in 3D printed construction. It has become the hub for 3D developments in the U.S., including the largest printed neighborhood in the world, which will break ground in 2022. New residential projects are likely to remain in high demand for a thriving construction job market, considering the ongoing housing shortage.
6. Phoenix
If you want to love somewhere with good weather, look no further than Phoenix. It averages 300 sunny days per year, which makes for nice working conditions and is great for business in the construction industry. Phoenix has ranked high for construction workers in previous years due to a higher-than-average number of building permits issued each year. Despite facing challenges early on in the COVID-19 pandemic, Phoenix has bounced back well and makes a great place for construction pros to apply in 2022.
An Optimistic Outlook for 2022
These are the best U.S. cities for construction jobs in 2022, but the industry as a whole is moving in a very promising direction. Demand for new developments seems to be going up all over the country, and construction professionals stand to earn high wages virtually anywhere they go to find work. With new projects booming in infrastructure, housing and the commercial sector, 2022 is poised to be a great year for the industry.