Worker's Choice: Residential or Commercial Construction
It only takes one look at the real estate market right now for most people to realize there is something significant going on. A quick scroll through news outlets will confirm it. Home prices and construction costs are soaring in the U.S. right now, fueled by an employee base on the move and widespread supply chain shortages.  For someone looking to make a career in the construction industry, this could be the ideal time to get involved. Demand for skilled workers is high, and in many areas pay rates are jumping significantly. Reaching financial independence has become extremely important to Americans in the last decade, and skilled construction careers can be great means of doing so. Of course, there is a lot to think about before committing yourself to this career path.
Perhaps one of the most fundamental decisions that you'll have to make is whether working in residential construction or commercial construction is the right move for you. Although you may initially think that the two are fairly similar, this couldn't be farther from the truth. The two vary from the building materials used, to the equipment necessary for construction, right down to the way each construction project is traditionally funded.
Making this decision will set you on the path that will lead to a career. The big question is: which one will be the best for your situation?
Residential
Residential construction can mean a lot of things. For instance types of buildings that fall under this category include:
• Single-family homes
• Duplexes, triplexes and fourplexes
• Townhomes
• Smaller housing co-operatives
• Condominiums
Although the majority of the homes that fall under this category will be new construction, there is also plenty of opportunity for the work to be home renovation. This type of construction typically utilizes traditional timber framing. Certain aspects of the work may require specialized skills, but very rarely is large equipment needed. Costs for building a home can add up fast because there are a lot of contractors who specialize in certain aspects of home construction working with the architect/builder such as:
• Cement masons
• Framers
• Roofers
• Plumbers
• Electricians
• Interior designers
• Drywallers
From a finance perspective, both residential and commercial construction can be highly profitable. Ultimately how profitable will depend upon the materials used, the complexity of the job and the number of clients. For instance, a developer may work on one commercial construction project in a year vs 15 or more residential projects.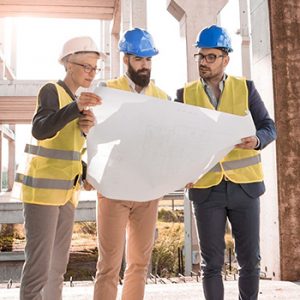 Commercial
Commercial construction more or less picks up everything that isn't considered residential. Typically these are larger buildings that don't work well with traditional timber framing and instead utilize steel. Types of commercial construction include things like:
• Large-scale housing structures like apartments
• Offices
• Retail buildings
• Storage units
• Industrial workspace
The types of professionals needed in a commercial setting are quite a bit different than what would be needed in a residential setting. For instance, commercial construction typically requires specialized heavy equipment operators. Even those professionals that are utilized in both types of construction such as plumbers, electricians or masons typically don't cross back and forth between the two.
Though safety is highly important for both commercial and residential construction, the emphasis is much more pronounced in commercial construction. Safe work environments should be a top consideration for anyone considering entering the construction industry. Outside of the obvious personal health benefits, safer operations tend to be more profitable in the long run.
Choosing the Best for You
There are a lot of career options within the construction realm. The level of skill required to complete the job will ultimately determine how much you make in either construction type. For instance, electricians, plumbers and certain types of carpenters typically attend trade school and complete a multi-year apprenticeship program. This specialized training makes their jobs more profitable.
Some construction career paths don't require much more than a high school diploma and some on-the-job training though. For instance, most heavy equipment operators don't need a specialized degree. Likewise, jobs like framing, roofing and painting don't have specific educational requirements.
Depending upon where you live, you may also need to be willing to travel a fair amount for a job. In all but the most rural of places, residential construction workers can typically find enough work to keep them within a day's drive of home. If coming home every night is important to you, this could be the path. On the other hand, commercial construction could allow you to try out new areas for a few months at a time. For instance, you might be working on the construction of a new stadium in one city for six months then move three hours away to build an apartment complex for the next year.
Determining the construction career that is right for you involves a lot of narrowing down what you're interested in. One of the first steps is evaluating whether you are more interested in residential or commercial construction. Either one has the potential to be a successful and profitable long-term career path.