Contractors Workforce Development Assessment (CWDA)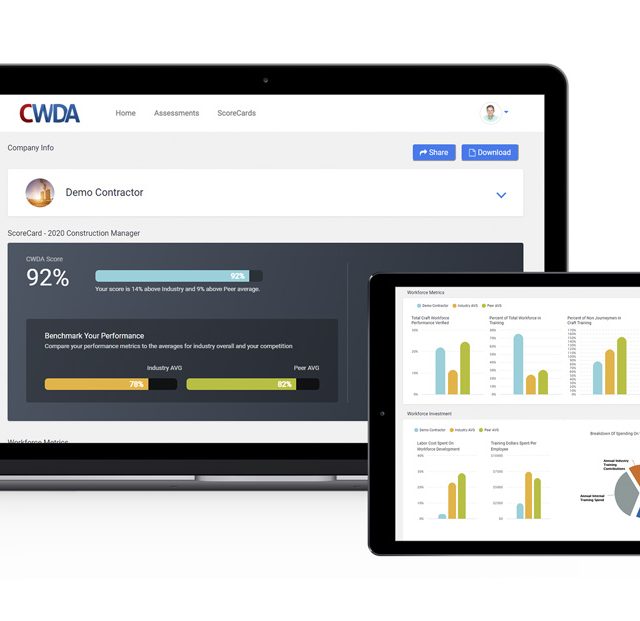 What is the CWDA?
The CWDA is a powerful assessment tool and process designed to objectively measure a contractor's workforce development and training efforts and commitment. The CWDA helps improve project labor certainty by growing and improving the skilled workforce through objective metrics and effective peer benchmarking.
How Does the CWDA Work?
A contractor's crucial first step to effectively address labor risk is an objective, honest examination of workforce development, hiring and training programs. This process evaluates, validates and improves strategies and tactics by producing a CWDA ScoreCard and Report which benchmarks performance against the industry and the competition. Contractors share their ScoreCard directly with owners and hiring contractors allowing them to know with confidence the company's commitment to talent development and retention. The CWDA increases a contractor's capacity to avoid serious labor challenges and increases their competitive edge when pursuing work.
Benefits of the CWDA
Establishes industry-wide workforce and training metrics
Contractors identify strengths and growth opportunities to increase ROI and improve operational excellence
Contractors protect their reputation and enhance their brand by delivering a competent, skilled workforce
Effectively demonstrates workforce development commitment to project owners and contract partners
Owners effectively evaluate and pre-qualify contractors to decrease labor risk and improve project outcomes
Facilitates safe, productive and successful project delivery
Frequently Asked Questions
CWDA Process & Login
Contractor sets up an account at www.myCWDA.com to access the CWDA.
Contractor initiates, completes and submits the relevant assessment(s).
The CWDA Admin assigns a professional resource for the submission review/audit.
The Auditor reviews the submitted data, completed assessment and supporting documentation and may conduct a telephone audit with the contractor to review responses and information provided – additional information and clarification may be requested as necessary.
The contractor updates responses and provides any additional information as necessary.
The Auditor assigns a score to each question in the assessment.
The Auditor may provide notes and/or recommendations for each assessment question.
The Auditor may provide notes and/or recommendations for the overall assessment.
Upon audit approval, the CWDA ScoreCard™ and the Assessment Report are published and available to the contractor online and in PDF format.
The contractor can share any past or current ScoreCard (with or without the report) to any owner or contractor (EPC, GC, Prime, etc.) online and in PDF format.
myCWDA Login