ABC Names the 2023 Craft Instructor of the Year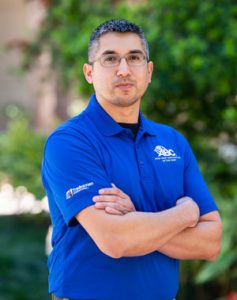 ORLANDO, Florida, March 16 — Associated Builders and Contractors announced that Gabriel Galvan, Construction Prep Academy Instructor, ABC Indiana/Kentucky Chapter, Indianapolis, is the 2023 Craft Instructor of the Year. Galvan was honored at ABC Convention 2023 in Orlando, Florida, on March 15.
ABC presents the annual Craft Instructor of the Year Award to an instructor with an inspiring passion for their craft, creativity, a positive attitude and the ability to transfer knowledge through outstanding communications skills and forward-thinking teaching to future construction professionals.
"The countless hours that Gabe has poured into the next generation of craft professionals is truly inspiring and worthy of this recognition," said 2023 National Chair of the ABC Board of Directors Milton Graugnard, executive vice president, Cajun Industries LLC, Baton Rouge, Louisiana. "It speaks volumes that his nominator said 'Gabe Galvin is motivated to teach tradespeople because he enjoys inspiring others to be their best. He instills a strong foundation for apprentices that follows throughout their career.' Congratulations to Gabe on this well-deserved honor! Thank you for your dedication to the craft, the merit shop construction industry and, most importantly, the students."
With 20 years of experience in the industry, Galvan has taught as a carpentry apprentice instructor and a construction trades and HVAC instructor. He has also been a contractor owner/operator and a carpentry and masonry specialist for the Army National Guard in Indiana.
"Over the past 18 years, I have served in the Army National Guard. I have been honored to mentor soldiers not only for combat situations but also to guide them through personal and family struggles," said Galvan. "I am always available and ready to answer any call, to listen to concerns from soldiers and to provide problem-solving solutions. I have spent years investing in the betterment of soldiers' lives, and I bring that same dedication and leadership into the classroom. I have also worked with our local community in building partnerships where our construction programs build needed housing for people in the community."
As Craft Instructor of the Year, Galvan received a $10,000 cash prize. Co-sponsors of Craft Instructor of the Year are the National Center for Construction Education and Research, the training, assessment, certification and career development standard for the construction industry, and Tradesmen International, North America's premier craft professional staffing resource. Galvan will also be profiled in the June issue of Construction Executive magazine.