ABC Names the 2023 Craft Professional of the Year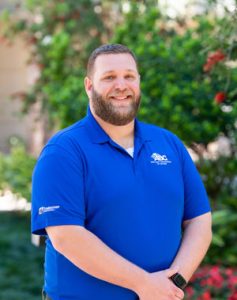 ORLANDO, Florida, March 16 — Associated Builders and Contractors announced Jared Foster, senior general superintendent at Gaylor Electric, Noblesville, Indiana, is the 2023 Craft Professional of the Year. Foster was honored at ABC Convention 2023 in Orlando, Florida, on March 15.
ABC presents the annual Craft Professional of the Year award to a construction craft professional who excels in their field, demonstrating a commitment to safety, workforce development and the merit shop philosophy.
"In his nomination, Jared was described as embodying and upholding 'every value that is defined in the merit shop philosophy of ABC, proving time and time again that one truly dedicated and inspiring leader can help shape the future of the electrical trade,'" said 2023 National Chair of the ABC Board of Directors Milton Graugnard, executive vice president, Cajun Industries LLC, Baton Rouge, Louisiana. "On and off the jobsite, Jared is a construction industry leader, excelling in total human health, quality, innovation and attitude. With more than 17 years of experience in the construction industry, Jared exemplifies the best of the best among his colleagues, who are building their local community stronger through the electrical trade."
In his current role at Gaylor, Foster ensures that every project is completed with the highest quality of craft work—on schedule and with safety as the highest priority. Senior general superintendents must possess leadership abilities in project controls, including safety compliance, schedule, materials management, labor projection and jobsite personnel mentorship. He also travels the Midwest to provide leadership to construction projects and leans into his ability to bring teams together.
During his career in construction, Foster has been recognized by colleagues, industry experts and clients nationwide for his ability to form genuine connections. Moving up the ranks from a helper, Foster is now a journey-level electrician, the highest-ranking field title in the industry, all while being under the age of 40.
"I deeply believe in helping people reach their potential," said Foster "This award means everything to me. It shows my daughters the why behind the work I do. This award represents the countless craft professionals who help mentor me. My hope is to inspire a new generation of craft professionals, who will take pride in working with their hands and building America."
As Craft Professional of the Year, Foster received a $10,000 cash prize. Co-sponsors of Craft Professional of the Year are the National Center for Construction Education and Research, the training, assessment, certification and career development standard for the construction industry, and Tradesmen International, North America's premier craft professional staffing resource. Foster will also be profiled in the June issue of Construction Executive magazine.