Atazhan Yertassov Becomes First Kazakhstani to Earn NCCER Crew Leadership Credential
The APEC Training Center, an assessment and training partner for FGP-WPMP, developed a Crew Leadership course to prepare the Kazakhstani team supervisors and leads to be effective leaders via communication, providing direction to a crew, planning and scheduling work. In addition, the course offers foundational knowledge needed to attain an NCCER credential in the Fundamentals of Crew Leadership.
NCCER works to standardize training and credentialing for the construction industry and offers programs across 70 craft areas. NCCER's global registry system supports their portable credentials, which means that organizations across the world can verify and trust the qualifications of craft professionals with NCCER credentials through a secure database. This is inspiring as it gives Kazakhstani craft construction professionals the opportunity to work on projects worldwide.
After successful completion, participants are provided with the post-course materials and access to take the NCCER module test. The module test is not compulsory, but it is the only way to ascertain the full certification. On January 18, 2022, after nearly five months of delivery and 900 courses, the first successful NCCER candidate passed the challenging test.
Atazhan Yertassov, a 28-year-old workforce planning facilitator from 3GP Green who has worked for TCO for eight months, heard about the Crew Leader course from his colleagues and decided to join it in November 2021. He enjoyed the training and found it equally important for educational and practical purposes.
"Overall, it was interesting, and I gained a lot of knowledge and skills," says Atazhan. "Most of all, I learned about the importance of teamwork and its direct impact on the project as a whole."
After two days of offline study in Atyrau and a week-long preparation for the exam, Atazhan finally tested his knowledge. The hard work paid off when he scored 80 points (out of 100) and successfully passed the exam.
"I want to congratulate Atazhan and his family on this tremendous accomplishment and commend his dedication to personal development and to that of the Republic of Kazakhstan," said KPJV Project Director Richard Meserole. "In addition to the success of FGP, KPJV is committed to a lasting legacy for the Kazakhstani workforce. Atazhan embodies that effort."
In addition to Atazhan's accomplishment, this represents the first NCCER credential awarded as part of APEC TC's candidate status for NCCER accreditation. Supported by the FGP training assurance team, APEC TC began their accreditation pursuit in November 2018. The Crew Leadership training program itself took over eight months to develop. APEC Training Center is currently the only NCCER candidate organization in the Republic of Kazakhstan.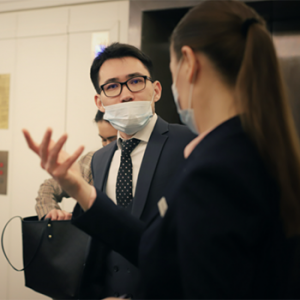 "APEC TC has traveled to centers in the United States and the NCCER headquarters in Alachua, Florida, to obtain the necessary information and procedures. Likewise, NCCER leadership has traveled to Atyrau to support APEC TC in their development. This is truly a global effort for skilled capacity and capability development in Kazakhstan," remarks Deputy Project Director Yerbol Zhumagaziyev.
In speaking on global partnerships, Cathy Tyler, Director of Accreditation and Workforce Development at NCCER, remarked "We don't only look for technical abilities, but centers that are dedicated to the security of NCCER content and materials and bolster the integrity and trust in our training programs. That trust is the foundation of our credentials and certifications' worldwide acceptance."
"Our team has worked tirelessly to learn from NCCER, embrace their feedback and deploy their tools. TCO is an ideal partner because they see this as more than just a benefit to their projects, but an investment to enable Kazakhstani construction professionals to work anywhere in the world," comments APEC Advisory Board Member Mariyash Aibassova.
Atazhan shares APEC TC's worldwide vision. "This training will prepare a new wave of Kazakh professionals committed to construction and the NCCER certificate can help provide global job opportunities."
This pioneering example of Atazhan will inspire hundreds of other supervisors and leads to take up the course and go after the NCCER certificate. All participants should remember that with diligence, hard work and support from the APEC Training Center everything is achievable.