Commercial Spaces Need To Be Updated Post-COVID: Here's How
One of the legacies of COVID-19 will be the way it redefined work and the workspace for an entire generation. Attitudes, expectations and business models have shifted to accommodate safety measures.
Now that lockdowns are lifting, many businesses are wondering what commercial spaces and person-to-personal interaction could look like in the future. With the possibility of future pandemics, there is no going back to original business models.
In response to changing expectations, commercial spaces will need to be updated post-COVID. Here are five ways how.
1. Reexamine the Identity of Spaces
The social impact of COVID-19 has changed the way commercial spaces are used forever. While many companies may prefer on-site locations, they are no longer always considered necessary. In fact, some companies are downsizing their commercial properties and keeping their workforces remote long-term. For some, this is a preventive measure in case another pandemic affects conventional working conditions.
After the onset of COVID, many companies closed office spaces and switched to online meetings rather than have face-to-face communication between employees. Commercial spaces that welcomed in-person customers also shifted their business to online stores or delivery services.
During the height of the pandemic, many employees lost their jobs as businesses downsized. Those who remained employed shifted to working remotely from home. Now that offices are ready to welcome workers back, many say they'd prefer to continue working from home at least part-time. Remote work has proved not only to be doable but also to be enjoyable in many cases.
For companies that do shift their business and employees back to physical locations, these spaces will likely need to be redesigned, or in some cases, rebuilt from scratch. It no longer makes sense for most of an office building to be cubicles – employees who work there will want more space, and many cubicle employees may be moved to remote work anyway.
Some companies are moving to "resimercial" designs, which incorporate the more comfortable elements of home into traditional office spaces. Resimercial spaces balance playfulness with organization in an effort to help employees focus and then unwind. Another response to changing employee needs involves installing outdoor workstations for employees who want the benefits of fresh air.
2. Eliminate Toxic Building Materials
While some businesses have incorporated temporary safety measures like installing plexiglass and requiring masking, COVID has highlighted the need for a stronger focus on overall health in commercial buildings. A focus on safety means avoiding toxic building materials.
Many commercial buildings are constructed with toxic materials that can harm construction workers and future residents. The air quality in commercial buildings such as schools, offices, and malls is generally poor from a combination of these toxic materials and little to no air ventilation.
Common toxins found in construction materials include chlorinated plastics, volatile organic compounds (VOCs) found in resins, composite wood and insulation, polyurethane spray insulation foam, and toxic adhesives.
Many of these toxins are released into the air over time, and increased exposure can cause health issues ranging from eye irritation to cancers. Toxic chemicals also tend to collect around dust, which is usually plentiful in commercial spaces and offices.
Both residents and construction workers can be harmed by long-term exposure to toxic building materials. It's best to avoid polluting commercial environments in the first place, but increasing fresh air and installing air purifiers can help reduce toxin exposure in many cases.
Fortunately, there are many healthy and sustainable solutions that can replace toxic building materials. As awareness of construction toxicity grows, these solutions may eventually become standard practice for the construction industry. In the wake of COVID-19, the need for healthy building materials and environments can't be emphasized enough.
3. Improve Indoor Air Quality
Another way in which construction companies can make buildings safer is by improving ventilation. Not only will this reduce the risk of COVID transmission, but it will also dilute toxic chemicals already present in the air and improve air quality.
Air quality is closely connected to mental functioning, and research shows that bad air can cause memory impairment and brain fog. Over time, toxic air can impact individuals' performance and break down their health. COVID-19 has highlighted the responsibility of workplaces to offer their employees healthy environments, and no customers or employees should be subjected to a toxic workplace.
Unfortunately, many modern construction methods insulate buildings as tightly as possible to conserve energy for heating and cooling. The problem with this is that many new buildings can't breathe, and toxins may build up inside. Systems for air purification and ventilation can offset a lack of access to fresh air, but it's best to construct buildings that can breathe.
By using breathable, eco-friendly building materials and creating a thoughtful ventilation plan, construction companies can ensure commercial properties contain air that's healthy for employees to breathe. Balancing energy savings with healthy indoor air is challenging, but it can be done.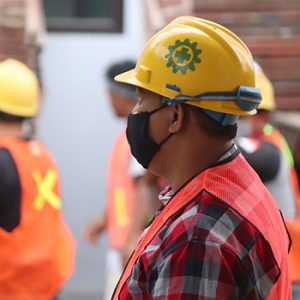 4. Adapt to Varying Needs
Updates to commercial spaces will take different forms depending on a company's goals, employees, and resources. For example, companies that move to fully remote working may only require a head office or collaborative spaces for employee meetings or recreational events.
Remote workers may become more invested in the building quality of their homes since they are in control of the air quality and spend more time there. This may lead to a demand for healthy materials and residential renovations. Some remote workers may choose to rent their own office space for a better work/life balance, increasing interest in coworking spaces.
Commercial spaces that partially or fully return to physical locations may require redesigning to enlarge offices or barriers between cubicles. In some cases, offices may need to be completely renovated to suit changes in how the space is used and delegated. Many companies will prioritize collaborative spaces over cubicles in the future.
The extent of updates to commercial properties will be balanced between need, desire, and resources. Some companies may choose small-scale solutions because they would rather invest their resources in something other than office space. Other companies will plan a complete renovation to stand out to future employees.
As business location needs change, the construction industry has the opportunity to find innovative solutions and help rethink the American workplace. Companies that treat their workers ethically, use healthy and non-toxic materials, and find creative ways to meet new expectations will thrive in the new working world.
5. Work Around Supply Chain Issues
Unfortunately, the economic disruption from COVID-19 has also affected the construction industry by causing supply chain issues. Some materials aren't available, and others are taking much longer than expected to arrive. Extended wait times can mean a higher price tag for construction and increase the time businesses wait to reopen.
Some construction companies are working around this issue by pivoting to complete what they can with their available materials. For businesses interested in renovations or new construction, it's a good idea to talk with experts to conduct a risk assessment on each project. Businesses and construction companies should consider questions like:
• Where are these materials coming from?
• Are they likely to be unavailable or get delayed?
• What can we do if unexpected delays occur?
• Are there backup materials we can switch to?
• What is the projected cost of construction with delays?
• How much does our insurance cover?
Construction companies can't get the supply chain back on schedule, but they can work with businesses to ensure both parties are prepared and plan for supply chain issues. Changes to available materials don't necessarily mean new construction and renovations can't move forward.
 The Future of Construction
The pandemic has redefined the ways in which business is conducted and commercial properties are used. Many organizations are now in limbo, trying to decide how far to go between staying remote and moving back on-site.
By embracing industry changes and challenges, construction companies can help answer the question that COVID-19 has raised for this generation: what do commercial spaces look like now?