Finding a Way Out of Construction Supply Chain Challenges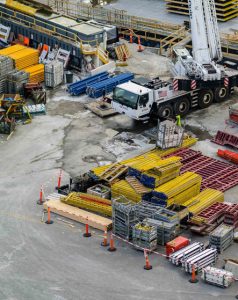 The construction industry has endured a rough stretch of supply chain deficiencies in the last few years. Companies experienced an exodus of skilled workers and shortages of many essential materials when COVID-19 put the global economy on hold in 2020. Delays and disruptions were almost inevitable as everything came screeching to a halt.
Recovery has been slow, but progress is finally being made after more than three years. Here's how construction professionals are finding their way out of the industry's supply chain challenges and what the future may hold.
Adopting New Technologies
The most important construction initiative has been adopting new technologies. Supply chain management must become faster and more efficient, and recent advancements have made that goal more attainable. This tech provides access to larger data sets and helps companies make better decisions regarding their supply chains.
1.    Supply Chain Management Software
Various management software solutions have also been developed to analyze supply chain operations in the construction industry down to minute details. These four solutions, in particular, have been huge game-changers for company managers:
Order management software: OMS makes business transactions more timely and accurate. People don't need to manually send out POs and invoices since the software automates these tasks and eliminates human error.
Inventory management software: IMS can track a company's material, tool and equipment inventories, helping managers make high-stakes stocking and procurement decisions.
Supplier management software: SMS helps companies track all their supplier options based on pricing, reliability, material quality and sustainability initiatives. It removes guesswork and predictions from the equation.
Transportation management software: TMS optimizes transportation routes and monitors delivery schedules for materials and heavy equipmen These improvements keep projects moving on schedule and help eliminate preventable delays.
According to the 2021 KPMG Global Construction Survey, integrated project management systems and advanced data analytics are among the most widely adopted technologies. Moreover, construction and engineering professionals believe these advancements will have the greatest return on investment in the coming years.
2.    Geospatial Technology
Geospatial technology isn't new, but it's just beginning to play a big role in the construction industry. The general idea is to provide a full description of an object's exact location, estimated arrival time and potential delays that might occur along the way. There are three main types of geospatial technology:
Geographic information systems (GIS): This computer system captures, stores, checks and displays data. Construction companies can use GIS to track their material deliveries and anticipate disruptions before they happen.
Global positioning systems (GPS): GPS helps construction companies identify the optimal locations for material drop-offs and pickups. Shorter delivery times lead to fewer delays and lower costs.
Remote sensing (RS): RS deals specifically with inventory management, helping contractors evaluate their supply inventories with greater accuracy. They can see which units are ready for delivery and which shipping channels they should use. RS can even predict buying surges, order types and returns once it gets enough data.
Geospatial technology should continue to increase supply chain visibility and help construction companies avoid costly mistakes. Human error will always happen to some degree, but GIS, GPS and RS make it less frequent.
3.    Construction Wearables
Construction supply chains have a high volume of materials and equipment. Employees will make mistakes, especially when dealing with overseas shipments. That's where construction wearables come into play. Helmets, vests and other equipment are now available with built-in digital tools that track key performance indicators and employee health.
Establishing accountability on the micro level is crucial for overcoming supply chain challenges. If average workers are slacking off or making avoidable mistakes, no amount of technology can compensate for their shortcomings. Construction wearables promote consistent performance by monitoring employee productivity and well-being.
Using Alternative Materials
Construction technology has been a huge bright spot in the fight against supply chain challenges, but glaring problems still exist surrounding material availability. Prices for lumber, concrete and steel remain volatile, making it difficult for companies to maintain their inventories. As a result, alternative building materials are becoming commonplace.
Instead of buying from regional or international suppliers, more contractors get their materials from local sources to cut costs and delivery times. They're also using more recycled and repurposed substitutes. This trend is helping construction companies avoid supply chain disruptions and make their projects more eco-friendly simultaneously.
For example, materials like hempcrete and ashcrete are now viable options instead of regular concrete. Lumber has many sustainable alternatives, including mass timber, cork, bamboo and newspaper wood. These materials are cheaper because they're easier to produce but still strong enough for commercial and residential applications.
Rebuilding the Workforce
The construction industry's workforce is another issue that's still a work in progress. The United States faces a shortage of about 650,000 construction workers as 2024 approaches. This number is up from estimates of 500,000 in early 2023, so the problem is getting worse, not better.
Technological advancements have helped businesses overcome the absence of skilled workers to some degree. However, data analytics and automated software can only do so much. The industry still desperately needs more tradespeople and entry-level employees to operate equipment. The supply chain still runs on people, not on robots.
There is some good news — interest in the construction industry seems to be growing. Enrollment at trade schools has steadily increased since 2021 as more young people are choosing technical and mechanical programs over colleges. The employment situation looks bleak now, but that could quickly reverse in the coming years.
In the meantime, industry leaders must devote more resources to recruiting, developing and retaining skilled laborers. Onboarding programs should become more comprehensive. Local businesses need to be active on social media and increase engagement with the next generation of workers.
A Long Road Lies Ahead
Although new resources like geospatial technology, management software and wearable devices are making supply chains more efficient, other areas still need work. Material prices and availability are still big weaknesses, and the workforce isn't close to full recovery. Progress is being made, but a long road lies ahead before the construction industry overcomes its numerous supply chain challenges.