How Does the Hybrid Work Trend Impact Construction?
The ongoing COVID-19 pandemic has created significant shifts in all aspects of life and sectors of the economy. Many companies, regardless of industry, adopted fully remote or hybrid work models. Going into an office five days a week quickly became outdated amid COVID-19 protocols, such as mask mandates and social distancing.
However, the hybrid work trend has impacted industries differently. For example, some companies, especially in health care or construction, offer essential services and regularly conduct business in person. How has this hybrid work shift impacted how construction firms operate?
Below is more about the hybrid work model, its benefits and drawbacks and how it's impacted the construction industry.
The Pivot to Hybrid Working Models
According to research from McKinsey, nine out of 10 organizations surveyed will combine remote and on-site working in the post-pandemic era. It's expected that hybrid work will be a dominant force in the future of work culture.
Hybrid work comes with pros and cons. It allows for increased scheduling flexibility, helps employees find a work-life balance, increases productivity and reduces companies' operating costs, such as office rent and utilities.
However, if teams are distributed, it may negatively impact collaboration and communication efforts. Hybrid teams also may lack organizational structure and end up working in silos.
Another concern of hybrid work is the increased risk of facing cybersecurity threats, given the number of distributed devices connected to a company's network.
It's always critical that construction companies use best cybersecurity practices, such as using a password-protected router, avoiding phishing scams and taking precautions when handling personally identifiable information (PII).
Hybrid Work and the Construction Industry
The construction industry requires contractors and executives to work in person. Without construction workers completing projects on-site, structures would simply not be built.
Despite the need for workers to appear on job sites, recent studies suggest that construction firms are interested in allowing employees to work remotely, either part-time or full-time. Additionally, one survey found that some employees were more willing to quit their jobs than return to the office if their company asked them to.
However, can construction firms make progress on projects and keep employees productive if they're not working directly on-site?
So far, it seems as though firms that pivoted to hybrid work have reaped the benefits. Lower real estate costs, eliminating commutes and travel times and improved collaboration with clients are cited as positives by major companies like AECOM and Jacobs.
Unfortunately, hybrid work models do come with their fair share of challenges, especially for construction firms. For a hybrid model to work, there needs to be a strong foundation of good communication, employee training for new technologies and, essentially, a nearly seamless collaboration between on-site and remote staff.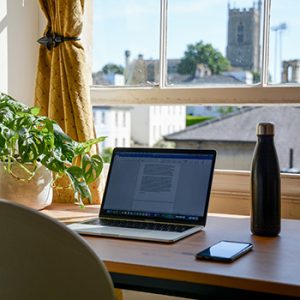 How Construction Companies Can Combat Hybrid Work Challenges
Bridging the gap between physical and digital work environments is not something that can easily happen overnight for construction firms.
Here are some ways construction companies can implement a hybrid operating approach and overcome some of the common challenges of hybrid work models.
1. Invest in Digital Technology
Without digital technology – such as project management software (PMS), customer relationship management (CRM), or implementing digital twins tech – companies would be unable to combine remote and on-site jobs. Leveraging technology to help employees do their best work will help maintain productivity across the organization.
Two other pieces of technology that construction companies should consider adopting are digital cloud-based time and material (T&M) solutions and virtual reality (VR). There are plenty of new, innovative technologies construction companies can leverage to make hybrid work possible.
2. Implement Employee Training Programs
If new technologies are introduced to a firm, companies must take time to train their employees on how to use them. The technology is rendered useless without employee training, and no firm wants to see its investments go to waste.
A training program should meet employees where they're at and allow them to see the benefits of the technology themselves. Construction companies should consider keeping all employees on the same page through good communication and comprehensive training.
3. Remain Flexible
Because hybrid work does come with challenges, it may take time for construction companies to work out the kinks. A significant shift in work models requires patience and adaptability.
Construction companies must be flexible if they want to make a solid transition to hybrid work. Again, it's mentioned above that change cannot happen overnight. Companies can outline "a plan to pivot" that allows for improvisation to keep the business running smoothly.
It's expected that hybrid construction is here to stay. While it may not be a simple transition for all construction firms, it's worth exploring as it benefits employees, executives and clients.
Is Hybrid Work the Future of the Construction Industry?
Many construction practices will inevitably digitize because the world is becoming increasingly digital. However, it's unreasonable to say that a structure will be built using Zoom in the future.
Construction companies will need to identify potential challenges regarding hybrid work and use some of the methods outlined above to ensure they can make a smooth transition. Companies that opt for a hybrid approach may be able to outperform their competitors and generate more revenue, so it'll be interesting to see how the industry handles the hybrid work trend.