How to Properly Clean a Site Post-Construction
If you've ever worked in construction, you know that just because the walls are up and the heavy equipment is gone, it doesn't mean you're finished with the job.
Inspecting and cleaning a building ensures it is safe for occupation and increases the property's value. So technically, construction on a new or renovated building is not complete until the clean-up is done.
The construction company is responsible for carrying out detailed cleaning before handing over a building's keys. Here's a step-by-step guide that ensures you do not miss any spots.
Phase 1: Preparation and Tools
Post-construction cleaning equipment and supplies are different from what you would use for everyday janitorial tasks. For example, special chemicals are used to remove paint spills on floors and windows, and you will likely need industrial shop vacuums in just about every room.
Inspect the space to assess the scope of work before you round up your supplies. You will need these items on hand:
A floor scrubber, buffer, and sweeper
A large dumpster for the leftover construction debris like wood, bricks, and more
A professional vacuum cleaner and carpet extractor
A steam cleaner
A high-pressure washer
An ultrasonic cleaner
Heavy-duty trash bags and containers
Microfiber cloths
Personal protective equipment (PPE)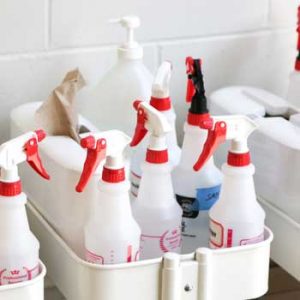 For cleaning agents and chemicals, you will need these:
Floor stripper
All-purpose detergent
Degreasers
Glass cleaners
Bathroom cleaners/disinfectants
Rug pre-sprays
Deodorizers
It's a lot to own, maintain, and refill all of these supplies, and it's often worth the cost of hiring commercial cleaning simply to save your own time and inventory management. Professionals already have the equipment, not to mention the methodology to handle all aspects of the project.
Phase 2: Rough Cleaning
Rough cleaning involves collecting and disposing of all trash, debris and leftover materials without paying attention to detail.
The surrounding grounds are often a mess after construction too, so make sure you remove all debris from both the interior and exterior of the building.
This is also the stage where you should:
Remove any debris that is too large to be vacuumed.
Sweep loose dust and dirt.
Dust down surfaces like ceiling fans, door frames, windows, and cabinets with a dry microfiber cloth.
Remove stickers from doors, windows, cabinet handles, and equipment. (You will wipe off the glue residue in the next cleaning stage.)
Use a high-powered vacuum to collect dust and dirt left on the floors after sweeping.
Note: Some construction and demolition waste may be hazardous, and you should not dispose of it down the drain or in regular trash containers. These include leftover paints, varnish, adhesives, and their containers; treated wood; products with mercury; and asbestos-based construction debris. Treat this type of waste as per state or country regulations. Furthermore, ensure all cleaners wear suitable PPE during handling.
Phase 3: Deep Cleaning
This is the most labor-intensive phase of post-construction cleaning that requires a lot of time to ensure all spaces are left spick and span. It is also the stage where most special cleaning chemicals are used.
Deep cleaning is best done at least a day after the rough clean to give dust time to settle.
In this stage you should:
Dust and clean the inside and out of cabinets and drawers, counters, shelves, ceiling fans, and door and window frames.
Vacuum and mop hard floors.
Vacuum and steam clean carpeted floors.
Power wash walls and exterior floors such as walkways and driveways.
Vacuum air vents.
Dust and clean walls, windows, baseboards, light switches, and other wall fixtures.
Scrub and sanitize sinks, faucets, and toilets.
Scrub floor tiles, paying attention to grout lines.
Wipe and scrub off scuff marks, paint, and plaster from door hinges, floors, and walls.
Phase 4: Touching Up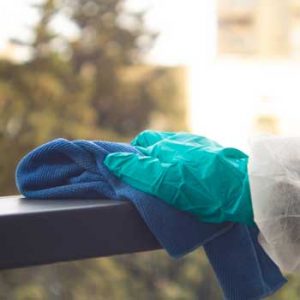 This final phase is best done several days after the deep clean. In reality, dust and dirt take about a week to settle after construction is completed. Factor this in when planning the cleaning schedule to avoid having to do more than one touch-up clean.
This stage is the quickest as it involves a simple wipe-down of surfaces with a microfiber cloth. Watch out for dust, dirt smudges, and fingerprints, especially on surfaces like doors and windows. It may be necessary to vacuum again if there is a lot of dust on the floors after the last cleaning.
In addition, go over all spaces from top to bottom to ensure you did not overlook anything and redo imperfections from the earlier phases. If possible, run the AC to check that all vents are dust-free while removing any dirt particles lingering in the air. The space should be ready for occupation after the final clean, so perfection is the name of the game at this stage.
Do It Right the First Time
The best people to handle post-construction cleaning are professional cleaners with the know-how and equipment to do the job effectively and efficiently. Hiring professionals saves money in the long run and, more importantly, ensures the safety and health of the building's future occupants.