Maintaining Safety Around Construction Areas
Construction safety is important for both workers and passersby. Risks such as handling dangerous products, falling objects and inadequately secured scaffolding are present on construction sites. Due to obstacles such as deadlines and poor weather, construction sites can sometimes be unsafe as a result. Some workers even suffer critical injuries. Consequently, it's important to protect craft professionals at work in construction.
Falling off a ladder during construction work might have devastating repercussions. The same is possible for work in shafts and canals. For a fall to result in significant harm, scaffolding and shafts do not need to be high or deep. Sometimes, even a slight height difference is sufficient. When workers are not appropriately protected, nearby the scaffolding could be in danger on a platform. In the worst-case scenario, a tool could fall and cause a head injury if they do not wear a helmet. Machines can become sources of danger in different ways. Sawing machines, for example, can cause harmful cuts. In addition, it happens again and again that operators of construction machines do not see pedestrians when backing up.
There are some precautions you should take to maintain security around the construction area. Numerous individual measures dependent on certain structural circumstances make up the safety procedures in the construction area.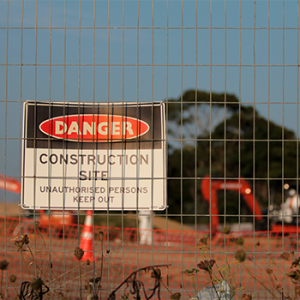 1. Secure and enclose dangerous places.
Fences, side guards, and covers can prevent falling objects from a height. For instance, things that have fallen from buildings can be caught by protective nets. Fencing components and single-level labeling are equally crucial. Use site fencing, barrier bars and no-go signs to keep onlookers from becoming lost on your construction site. Mark any dangerous locations or staff driving routes, preferably so they are visible even while workers are under stress. For added safety and security, place a security booth onsite with a person to guard the construction area to ensure that only authorized personnel enter the site and observe prescribed safety measures.
2. Provide safety clothes to the workforce.
A construction helmet, gloves, safety shoes with steel toes, as well as other appropriate clothing are essential on construction sites. Everyone working on site needs to be wearing a helmet. The upper portions of the jackets shield the worker from cold and wetness, while reflective materials improve visibility in low-light situations. The tools should also include eye protection for welding and hearing protection for using loud machines.
3. Light the construction site well.
When operating a vehicle in the dark, it is possible that incorrect buttons can be pushed or obstacles such as a fence or your colleague can be missed. Because of this, it's crucial to properly light every area of your construction site. Modern smartphone-controlled LED lights, specifically the fluorescent kind, function well on construction sites where low temperatures and rain can impair visibility. There are a lot of battery-operated spotlights in case electricity is unavailable.
4. Maintain cleanliness.
There are fewer chances of someone tripping over objects if there aren't many of them lying around. That is why it is important to have a clean construction area. Don't forget to collect dangerous materials like dust, shavings, dirt and more. Wet vacuums remove tough-to-clean liquid, increasing safety on your building site.
5. Handle dangerous substances carefully.
Suppose dangerous compounds leak. Containment clothes, sealing mats, binding granules and sealing pads can be useful to stop them from spreading. Distribute binding granules on top, allow them to absorb the substance, sweep it up and then discard it. Thus, the crisis has been resolved. It has been demonstrated that absorbent hoses and pads are useful for prevention. Put them around tanks or machinery.
A site accident can be avoided with careful preparation. There are several different pieces of regulation for building site safety that must be observed depending on the region. They cover everything, from risk analysis to worker safety gear. Every building site is unique. Therefore, each responsible party must separately identify potential hazards and create an advance plan to mitigate these threats.
To reduce risks, well-defined responsibilities and organized work procedures are helpful. By doing this, you also guarantee increased effectiveness. Be sure to heed any applicable legal requirements, such as those about mandated supervisors. With these suggestions, your building site will become a secure location even during hectic work periods.