Long-Term Health Concerns in Construction & How to Overcome Them
The construction industry is essential to both the economy and society in general. It is a major contributor to jobs and is a driver of both skills development and innovation. Indeed, the varied roles in the sector mean there are a plethora of accessible and rich career paths.
Nevertheless, for all the positives evident in the construction industry, it can be a career choice that offers risk for employees and contractors of all stripes. There is significant potential for long-term health conditions as a result of working in construction. The good news is, gaining some awareness of these risks can help workers, project leads and industry executives alike to take the steps needed to mitigate the worst outcomes.
Let's take a closer look at some of the most prevalent chronic health concerns and how to overcome them.
Auditory Issues
One of the more prevalent health issues in the construction industry comes from the presence of loud noises. Almost all aspects of construction create consistent background noise of significant levels. The deteriorating effects of this shouldn't be underestimated. Outright deafness is not the only possible issue. There is also potential for tinnitus and hearing impairments that can affect the quality of workers' lives.
It may seem like this isn't a serious risk, due to the requirement to wear appropriate protection for high-noise activities. The problem here is that the Centers for Disease Control and Prevention (CDC) report around 52% of noise-exposed construction workers isn't actually wearing hearing protection.
Overcoming this health risk needs to be a matter of leadership educating workers about the risks and insisting on protective equipment use. They should also be performing regular spot checks on compliance in this regard. These measures shouldn't be limited to those performing roles around heavy machinery. Workers subjected to background noise and persistent vibration should also be provided with sufficient protective equipment.
Lung Conditions and Cancer
As far as environmental exposure goes, the high potential for lung conditions and cancer is probably among the most concerning health risks. The presence of vapors, gasses, dust, and fumes in general on building sites is a major cause of chronic obstructive pulmonary disease (COPD) among construction workers. But there are also issues with specific materials in common industry use over the past 100 years or so.
The mesothelioma risks attributed to asbestos exposure have received a lot of attention in the past. Perhaps less well-known is the potential for construction workers to develop asbestos lung cancer. This is where exposure to asbestos fibers combined with other forms of pollution and lifestyle elements contribute to the development of cancer later in life. Both have clear roots in construction activities, though. Contemporary workers are unlikely to work with asbestos as a production material. However, they can still be exposed to fibers when renovating or dismantling buildings in which asbestos was utilized.
Part of the solution here is to make sure any project has frequent assessments regarding the presence of such hazardous materials. Not just asbestos, but also crystalline silica, which is being referred to as the new asbestos. But there also needs to be as much attention to mitigating the prevalence of common hazardous airborne particles. This includes highlighting activities likely to produce harmful dust so workers can use respirators and site limitations. From a long-term perspective, encouraging regular lung screening among workers can ensure problems are caught early.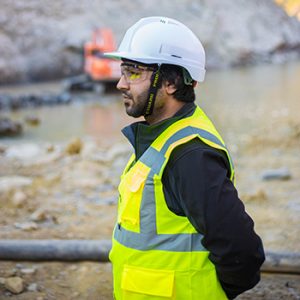 Blood Pressure and Circulatory Issues
Unless workers approach their daily activities mindfully, the seemingly innocuous parts of their jobs can develop or exacerbate health issues over time. This is especially evident for blood pressure and circulatory issues.
Construction work is often physically demanding. This in itself is not a cause of high blood pressure and hypertension. Nevertheless, combined with hereditary and other lifestyle factors it can be a recipe for problems to arise. But it's not just the threat of heart attacks or strokes that should be of concern; there are other related conditions. Construction workers who spend all day on their feet may be at higher risk of developing varicose veins. Simply standing at work isn't necessarily damaging, but it can contribute to circulatory issues and high blood pressure. These in turn can result in such vein conditions.
Overcoming these types of issues often comes down to encouraging workers to pay close attention to their cardiovascular wellness. This may mean adjusting their outside-of-work lifestyles to ensure the activities at work don't combine for a negative effect. It includes having regular check-ups with a doctor. Businesses may find it effective to incorporate a wellness program into their benefits system to help construction workers maintain long-term health in this regard.
Mental Illness
When people talk about the long-term health of construction workers, this is often surrounding the physical elements. But it's also the case that the nature of the work can present challenges for mental health. As with so many other health issues, the danger here is largely cumulative. Some roles in the construction industry are subject to a significant amount of responsibility and performance pressure. Throw into the mix extended shifts on large or multiple projects and stressful stimuli like exposure to loud noises, the mental and emotional consequences can be severe.
This certainly isn't an unusual outcome, either. One study found 83% of construction workers polled had experienced moderate to severe mental health challenges. Overcoming this is rarely easy or straightforward, as long-term psychological wellbeing can come down to a combination of factors. But businesses in the industry can play an important role by keeping mental health an open conversation. Workers need to be encouraged to talk to supervisors and colleagues when they feel stressed, anxious or on the brink of burnout. Companies must also make counseling resources available, as well as promote the use of mental health days off.
Conclusion
Construction professionals are the lifeblood of the industry. However, they often face significant long-term health risks. Most construction-related wellness issues can be addressed with a commitment to worker education, site vigilance and safer practices. Whether the challenges are physical or mental, industry leaders must commit to steps that mitigate the risk of these dedicated professionals developing lasting health issues.