NCCER Expands Testing Department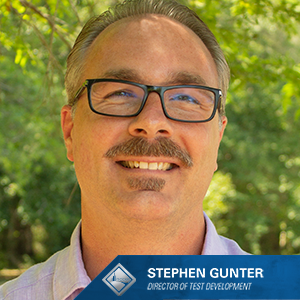 The National Center for Construction Education and Research (NCCER) is excited to welcome Stephen Gunter as its new Director of Test Development. Gunter has a Ph.D. in Industrial and Organizational Psychology from the University of Central Florida and 18 years of experience collaborating with and leading teams of psychometricians, software engineers and instructional designers.
"NCCER has a solid history and foundation of providing quality training and credentialing services," Gunter said, "The opportunity presented itself to help take NCCER to the next level of evolution and implement additional, technically sophisticated processes and capabilities."
NCCER is currently building on that strong foundation by expanding its testing team under Gunter's leadership and tapping into his expertise in measurement principles, psychometrics, psychological standards and legal guidelines.
"NCCER is committed to enhancing and maintaining the reliability, validity, and rigor of its measurement offerings," said NCCER President and CEO Boyd Worsham, "and we see Stephen as the person who can lead us in this endeavor."
Gunter's accomplishments include spending nine years as the lead psychometrician developing a large Congressionally mandated skills certification program that doubled in size under his leadership. He has also maintained an adjunct faculty position at the University of Central Florida since 2011.
This new role and the expansion of the department will ensure NCCER continues to offer quality construction education and assessments which are essential to its mission of building a safe, productive and sustainable workforce of craft professionals.
About NCCER — NCCER is a not-for-profit 501(c)(3) education foundation created by the construction industry to develop standardized curriculum and assessments with portable credentials and certifications for skilled craft professionals. NCCER provides a comprehensive workforce development system that includes accreditation, training, assessment, certification and career development solutions for the construction and maintenance industries. For more information, visit www.nccer.org or contact NCCER customer service at 888.622.3720.