NCCER Releases Updated Crew Leadership Curriculum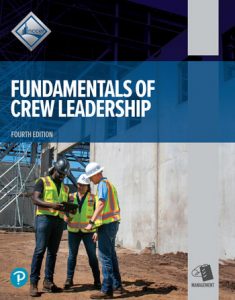 With the growing retirement rate of experienced construction professionals and nearly 73,000 projected job openings for first-line supervisors through 2031, it is paramount for organizations to effectively prepare and train the next generation of construction leaders.
To help organizations address this critical need, the National Center for Construction Education and Research (NCCER) has updated the Fundamentals of Crew Leadership. As the foundation for NCCER's construction management and leadership training, this curriculum helps journey-level craft workers transition to frontline leadership roles.
Now in its fourth edition, Fundamentals of Crew Leadership was designed to help first-time managers develop the unique skills needed to keep their teams safe, productive and motivated. The fourth edition takes a modern approach to leadership principles, team motivation, safety leadership, and project scheduling and resource management. It also includes new content on building and leading diverse teams, transitioning from peer to leader, addressing performance issues and managing conflict.
The title features a new design, updated artwork and user-friendly digital tools to enhance the learning experience, including video and online resources for hybrid teaching and learning approaches.
To order the fourth edition of Fundamentals of Crew Leadership, contact your Pearson executive director or visit the Pearson website.
NCCER develops and distributes its curricula in partnership with the world's leading learning company, Pearson. Individuals who successfully complete these training programs through an NCCER Accredited Training Sponsor will earn industry-recognized credentials through the NCCER Registry System. To learn more about NCCER curricula and purchasing options, visit the bookstore.
About NCCER — NCCER is a not-for-profit 501(c)(3) education foundation created by the construction industry to develop standardized curricula and assessments with portable credentials and certifications for skilled craft professionals. NCCER provides a comprehensive workforce development system that includes accreditation, training, assessment, certification, and career development solutions for the construction and maintenance industries. For more information, visit www.nccer.org or contact NCCER customer service at 1.888.622.3720.