Three Top Crafts Now Available as Part of NCCERconnect Core + Level 1 Series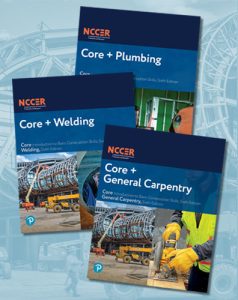 Providing more seamless training options for fundamental construction crafts, the National Center for Construction Education and Research (NCCER) has published additional offerings in its Core + Level 1 series on NCCERconnect. Core + Plumbing Level 1, Core + Welding Level 1, and Core + General Carpentry courses are now available. 
Each unified course includes the full selection of digital content and resources from Core: Introduction to Basic Construction Skills, Sixth Edition and the first level of the respective craft. The resulting digital product contains both eTexts, all module quizzes and homework options, and additional interactive e-learning resources.  
This streamlined structure makes it easier for instructors to deliver both titles within a single calendar year, using just one learner access code, online grade book and classroom setup. With this enhanced flexibility, instructors can switch between modules from either curriculum without moving between separate courses – keeping all the training resources in one place for trainees and instructors. 
Learners will continue to earn industry-recognized credentials for all successfully completed modules and levels. 
The first levels of Plumbing Fifth Edition, Welding Sixth Edition, and General Carpentry Sixth Edition join the HVACR Sixth Edition as available craft selections in the NCCER Core + Level 1 series. An additional option featuring the Electrical Eleventh Edition will be available later in 2023.  
To learn more about the Core + Level 1 series, sign in or register for NCCERconnect. 
NCCER develops and distributes its curricula in partnership with the world's leading learning company, Pearson, and ensures that it complies with the Department of Labor's Office of Apprenticeship requirements for time-based training. Individuals who successfully complete these training programs through an NCCER Accredited Training Program will earn industry-recognized credentials through the NCCER's credentialing portal. To learn more about NCCER curricula and purchasing options, click here. 
About NCCER — NCCER is a not-for-profit 501(c)(3) education foundation created by the construction industry to develop standardized curriculum and assessments with portable credentials and certifications for skilled craft professionals. NCCER provides a comprehensive workforce development system that includes accreditation, training, assessment, certification and career development solutions for the construction and maintenance industries. For more information, visit www.nccer.org or contact NCCER customer service at 888.622.3720.