Overview
NCCER provides organizations with a comprehensive workforce development system that includes recruitment, training, and retention resources. Our one-stop-shop approach includes accreditation and personnel training options; modular curricula that allows organizations to design their own programs or use the pre-designed apprenticeship structure; and assessment tools that evaluate knowledge and skills and create customized training plans for upskilling opportunities. All of this leads to the creation of training transcripts, credentials, and certifications for individuals within our secure online database.
NCCER is the industry's leader in developing construction craft training, assessments and credentials.
01
Accredited for Success
NCCER is the accrediting body for the construction industry and has an established process that ensures organizations consistently meet the high standards expected by the industry.
02
Standardized Educator Training
NCCER provides training and certifications for instructors, proctors and performance evaluators to ensure consistency and quality in the delivery of programs across all locations.
03
Robust Training Options
Our modular-based curricula provide organizations the ability to pick and choose the competencies they want to include in their programs, or they can utilize our pre-structured apprenticeship programs that meet the Department of Labor Office of Apprenticeship requirements. Either way each module includes knowledge and performance tests that result in credentials and is available in print and online.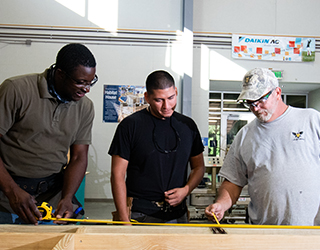 NCCER is the trusted source for workforce development solutions.
NCCER has been developing and updating quality craft curricula and assessments since 1996. Our extensive portfolio of content covers more craft areas than any other curriculum or assessment provider and is developed in conjunction with industry subject matter experts from across the country.
The broad utilization of NCCER by high schools, community colleges, associations, contractors, corrections and government entities provides opportunities for organizations to work together to build local talent pipelines. Our team of workforce development managers are available to assist organizations in building their programs and developing relationships with others in the construction and education sectors.
Choose Your Organization Type
Click below to learn more about the benefits for your organization.
Get
Started
NCCER Network Directory
NCCER has a vast network of organizations who utilize our resources to train and assess aspiring and existing craft professionals. These organizations meet the NCCER standards and are committed to providing quality construction education to build a safe, productive and sustainable workforce of craft professionals.