NCCER Q1 Curricula Recap: Recent Releases and Upcoming Titles
The National Center for Construction Education and Research has published several new curricula editions in the first quarter of 2023, with several more major releases scheduled throughout the remainder of the year.
RECENT RELEASES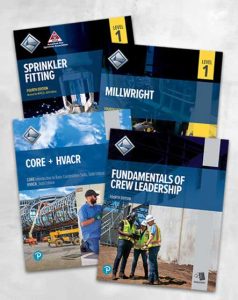 In response to strong industry demand to develop strong front-line leaders, NCCER delivered Fundamentals of Crew Leadership Fourth Edition early in 2023. This title is the foundation for NCCER's construction management and leadership training and helps journey-level craft workers transition to leadership roles.
NCCER also introduced new online training courses that combine NCCER's Core and Level 1 craft programs into a single NCCERconnect course. The first of these offerings released was Core + HVACR Level 1. This new course allows instructors to deliver both Core and the first level of the HVACR program together using one learner access code, online grade book and classroom setup.
The final levels of both the Millwright Fourth Edition and Sprinkler Fitting Fourth Edition were also released, completing each of those product updates. The new edition of Millwright moved to four total levels from five to better fit within standard four-year training programs. The Sprinkler Fitting curriculum, developed in partnership with the American Fire Sprinkler Association (AFSA), was updated to remain consistent with National Fire Protection Association (NFPA) 13 code.
UPCOMING RELEASES
Several more revisions and updates are in or nearing the final stages of development and are expected to be published by the end of the year.
NCCERconnect for Core Sixth Edition will be updated with interactive self-guided learning for each module, an expanded video library and a robust math question bank to help students to practice their math skills. To help engage learners throughout the course, instructors will have access a new library of hands-on projects and new augmented reality integration for Basic Safety and Rigging components.
The second edition of the Solar Photovoltaic Installer curriculum is coming soon. The revision features modernized content, new digital resources, and an expanded scope that covers both roof-mounted and ground-mounted PV system installations. The first module of the curriculum, Introduction to Solar Photovoltaics, will be released in Spring of 2023 and will be available as a standalone module. The remainder of the Solar Photovoltaic Installer curriculum will be published later in the year.
One of NCCER's most highly used programs, Electrical, will be updated to its eleventh edition this year. The latest revision realigns all content to the updated 2023 Electrical code. The upcoming edition will also feature additional enhancements, including new digital resources and more than 58+ training videos across the complete program. All four levels will be published by August 2023.
Additional crafts will be featured in the new line of combined Core NCCERconnect courses. Core + General Carpentry, Core + Plumbing Level 1, Core + Welding Level 1 and Core + Electrical Level 1 are projected to be available late this year, providing more options to meet the needs of training programs of various structures.
Along with these major updates, other offerings will also be published throughout the year, including new translations and higher levels of programs with recently updated Level 1 titles. Stay connected with NCCER's website, social media and other official channels to learn about all the new releases.
NCCER develops and distributes its curricula in partnership with the world's leading learning company, Pearson, to ensure that it complies with the Department of Labor's Office of Apprenticeship requirements for time-based training. Individuals who successfully complete these training programs through an NCCER-Accredited Training Sponsor will earn industry-recognized credentials through the NCCER Registry System. To learn more about NCCER curricula and purchasing options, visit the bookstore or contact your designated Pearson executive director.
About NCCER — NCCER is a not-for-profit 501(c)(3) education foundation created by the construction industry to develop standardized curriculum and assessments with portable credentials and certifications for skilled craft professionals. NCCER provides a comprehensive workforce development system that includes accreditation, training, assessment, certification and career development solutions for the construction and maintenance industries. For more information, visit www.nccer.org or contact NCCER customer service at 888.622.3720.
###